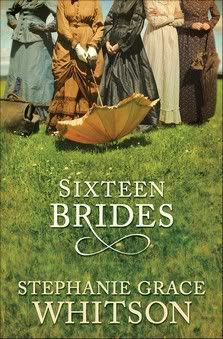 Sixteen Brides by Stephanie Grace Whitson
Sixteen widows who are left to carry on their lives without their husbands are given the choice of being at the mercy of relatives, or going west to Nebraska to start a new life claiming land and supporting themselves. Unbeknownst to the women involved, they were meant to be brides, not land owners when they arrived at their destination. Some of the ladies were satisfied to become brides again, but others were not happy with that idea at all. This is the story of those brave women who continued with their quest to own land and to support themselves.
I really enjoyed reading and learning a little about what women and men faced in setting up a new homestead on the prairies of Nebraska. The characters are interesting and likable and that makes the story easy to read. This book has much to offer anyone who is interested in how women lived back in the 1870's. The story flows nicely and is hard to put down once you start reading this story.
Bethany House Publishers provided this book to me free, to read and review.