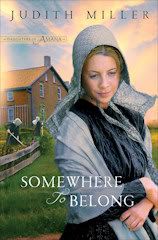 Somewhere to Belong
by Judith Miller

The Amana colonies are the home for devout Christians who live a cooperative way of live as simply as possible. Johanna has lived there all of her life and Berta has been brought there by her parents when she is about 17. Johanna is given the task of helping Berta to learn the ways of Amana and to fit in with the others, no easy task for anyone. Berta is willful and not happy to be where she is in Amana. Johanna doesn't understand why Berta is so rebellious and cannot do her assigned tasks without protest and childishness. As the story evolves, secrets come out. Secrets that threaten both girls faith in their families and in themselves.

I had a difficult time getting into this story for several chapters. The rebellious Berta did manage to get on my nerves a bit. She seemed more like a 10 year old rather then a young woman. As the story progressed, and more details and secrets were revealed, I found it more interesting to read and eager to see how things would turn out for everyone. Perhaps the hardest part for me was accepting that the worldly family of Berta Schumacher would so willingly give up their life and move to the Amana colonies and expect their almost grown daughter to just accept the stringent rules of Amana.

I can't give this book the full 5 stars, because the Berta character was just too irritating and not always believable. Some of the descriptions of life in Amana remind me of a commune, only worse in some ways. On the good side, it is a book that will show us that secrets within families are rarely good for all involved. Secrets hurt everyone, those who keep them and those whom the secrets are supposedly trying to protect.

This book was provided to me by Bethany House Publishers free of charge to read and review on my blog.